Cakra āgneya चक्र - bracelet
Regular price
Kč590.00 CZK
Regular price
Kč590.00 CZK
Sale price
Kč590.00 CZK
Unit price
per
Chakra is a translation for chakras in Sanskrit in our region. Chakra is a designation for an energy place (center) in the body, which is described as a circle or vortex. We have a total of 7 of these energy places in our body. The first is mūlādhāra, the designation for the root chakra in our extremities. Another place is svādhiṣṭhāna, or sacral chakra. The third energetic vortex is the maṇi-pūra, called the solar-plesux chakra by us. The fourth place is the anāhata, the heart chakra. The fifth place is the neck chakra, visuddha. The subsequent energy center is the ājñākhya, or frontal chakra, instead of the third eye. And the last place is the Sahasrara, the top chakra.
Andgneya is a name for gold color.
Stones of various kinds supporting energy places according to individual chakras.
The stone is a natural phenomenon and is therefore completely unique. Therefore, each stone can have a slightly different reflection, color and shape.
Material: Golden brass
Dimensions: The bracelet is very flexible and easily adjustable in size
Designed in the Czech Republic
∗ Handmade by talented artists in India ∗
Origin

During 2021, the Ashariya brand was created, combining modern elements with traditional designs of sacred geometry.

Our products are designed in the Czech Republic and handcrafted by talented artists in India. All our gemstones are also sourced from India.
Transport

After submitting your order, please expect delivery between 1-3 working days (for Czech Republic and Slovakia) and 2-5 working days for EU.

We offer FREE shipping on orders over 2000kč / 80 EUR.

We ship our products to the Czech Republic, Slovakia and the EU.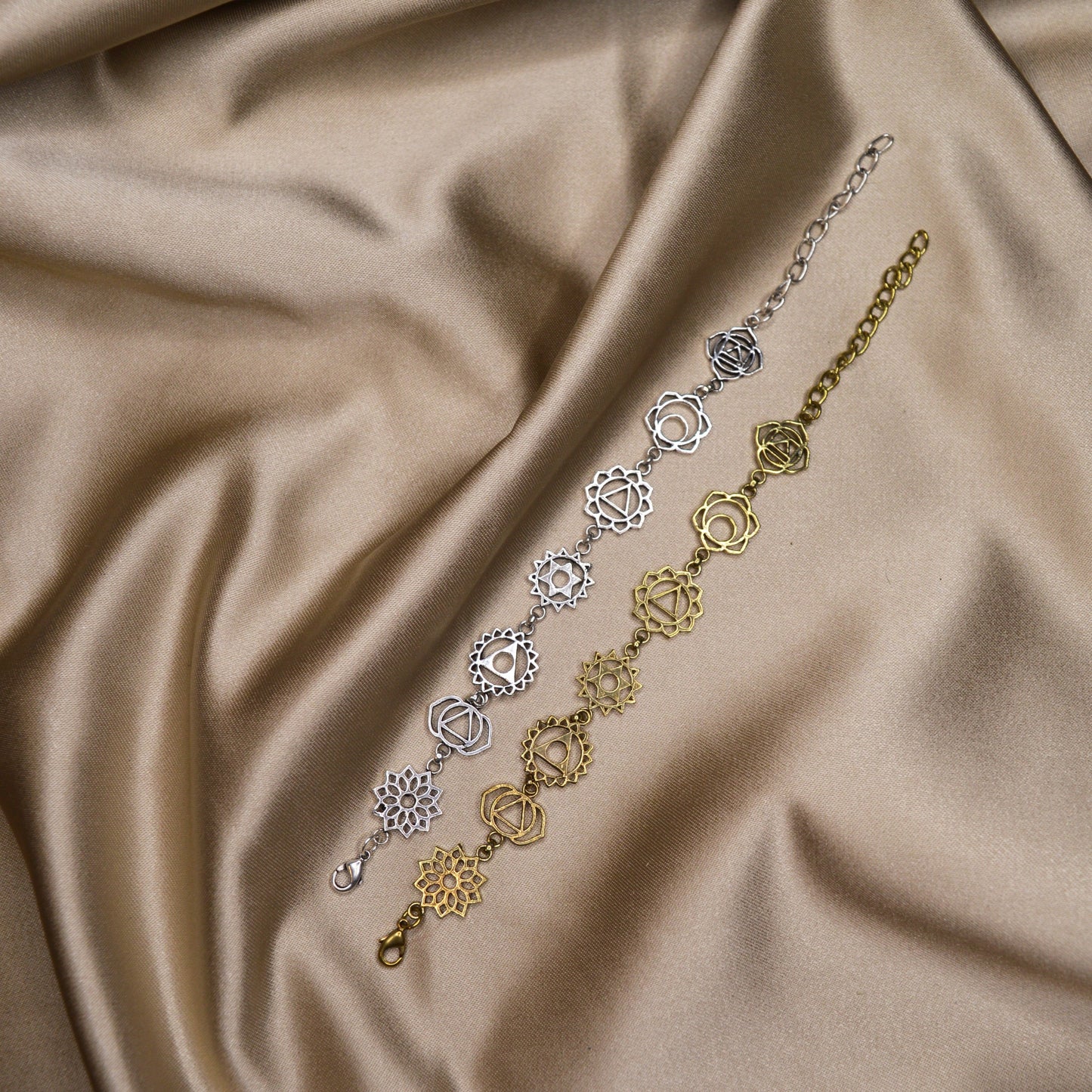 Náramek velmi zajímavý, krásný a sakrální .Rada ho nosím.
Moc spokojená
Náramek nosím už několik měsíců téměř každý den a stále vypadá jako nový. Velice kvalitní a krásný šperk. Super domluva a rychlé doručení.